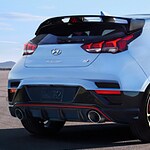 When consumers buy a new vehicle, they generally can list a few reasons why they chose that particular vehicle. However, when they buy a Hyundai Veloster, they can typically list many reasons because there are many reasons why the Hyundai Veloster is a good buy. This popular coupe is extremely attractive, offers good gas mileage and has third-door hatch that offers convenience. Stop at Hyundai Of Somerset, check out the Hyundai Veloster, and learn more about why it's loved by so many drivers.
There are so many reasons to buy a Hyundai Veloster.
•It offers a fuel economy of up to 34 mpg.
•It's loaded with the latest technology features.
•It's fun to drive.
•An affordable vehicle gives a lot of bang for the buck
•Provides a great ride
We would love to invite you to our dealership in Somerset so we can set you up for a test drive of the Hyundai Veloster. We're sure it'll be a ride you won't soon forget.