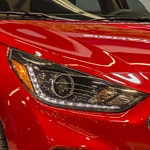 Individuals who prefer owning and driving a subcompact car often choose a reliable Accent. The vehicle has a sleek and stylish exterior and a comfortable cabin. The little Accent is also more than capable of performing.
All Accent models come with a four-cylinder 120 horsepower engine, which has an impressive EPA rating of 29 mpg/39 mpg. The motors function in combination with a manual transmission. But, upgrade the vehicle to include the automatic continuously variable transmission and achieve 33 mpg/41 mpg.
The fuel-efficiency of the Accent is better than competitive vehicles in the same class. The powertrain is more than capable of handling daily in-town commutes or extensive road trips. Overall, the subcompact offers a smooth and comfortable ride despite its size. Make a point of stopping by our Hyundai Of Somerset facility. Choose an Accent that appeals to your senses, and go for a test drive.